Around the World with Millac! Flavors of Spring: Balochistan Nowruz
Today we will be venturing to Pakistan's largest province, Balochistan! Did you know that the Baloch nation is so large that it's boundaries exceed even those of the largest province of Pakistan? Many Baloch have migrated for centuries over and across the modern-day borders of Iran, Afghanistan, and Pakistan, so the Baloch nation spans three countries and a variety of Central and South Asian cultures. Influences from surrounding areas have been interpreted in unique ways according to Baloch traditions, creating two way cultural sharing. One such custom found in Balochistan, Nowruz, has remained popular across the ages for its universal message of gratitude for the wonders of nature. The festival has traveled across fertile fields, mountains, and rivers to bring together people of various faiths and beliefs for a time of spiritual rejuvenation as the land transitions from dormant winter to active summer. Zoroastrians, Bahai, as well as various Muslim communities such as the Sufis, Shia, and Ismaili all find wisdom in the time of spring as a time of gratitude for all that nature gives us. Check out the map* below to see the various countries where communities celebrate Nowruz!
In Balochistan, the largest Nowruz festival happens in the provincial capital of Quetta, in recent years with collaboration from the Iranian Cultural Center. Neighboring provinces of Khyber Pakhtunkhwa and further north in Gilgit-Baltistan also join in with their Central Asian neighbors of Afghanistan and Tajikistan with small celebrations of spring east of the border. Music, dance, and games are played to mark the joyous occasion once the house has been cleansed of dirt and decorated with fresh flowers as the people also decorate themselves in new clothing. One key element in Nowruz across the various communities is the Haftsin table where fresh and dried fruits, baked items, sweet drinks, and other food items are spread out to be shared with family and friends. Join Millac in appreciating the bountiful dates which grow in Balochistan as we learn how to make popular Baloch madar with our Comelle Desi Ghee!
*In some countries marked, Nowruz is not a mainstream festival but restricted to minority religious and ethnic groups such as Kurds in West Asia and Parsi, Ismaili, Sufi, or Shia communities in South and East Asia.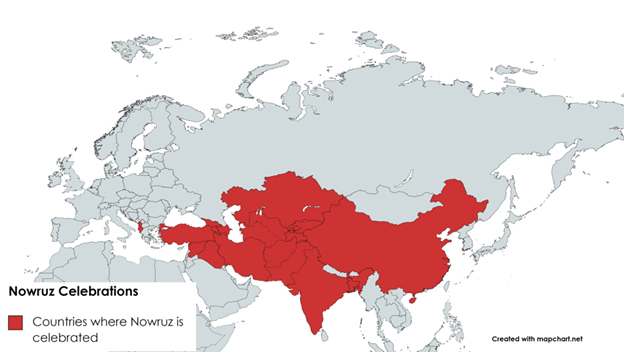 Recipe
Gather the following ingredients:
Comelle Desi Ghee ½ g
Dates 1 kilo
Semolina (suji) flour 1 cup
Cardamom (elaichi) powder or crushed 1 tsp
Fennel (saunf) powder 1 tsp
Nuts of choice
Preparations before assembling:
Remove seeds from the dates.
Directions:
In a bowl, combine the dates with semolina flour and mix well using your hands to knead the two together into a chunky paste.
Heat the ghee in a pan until liquid on medium heat.
Toast the cardamom and fennel in the ghee until color changes slightly and lower the flame.
Add the date paste and stir constantly for at least 15 minutes or longer until the mixture softens on low flame.
Pat the mixture level and cover with a lid for 15 minutes.
Next, remove the lid and continue stirring for approximately 10 minutes. At this point the madar should be taking its shape well by being pliable and sticking together.
You will know the madar is ready when it starts releasing some of the excess ghee. If your mixture is too dry this will not happen so make sure that it is sticking well and add more ghee if necessary so that you have a smooth lump. Continue stirring on a low heat until achieving a glazed texture.
Plate and garnish with nuts of choice.