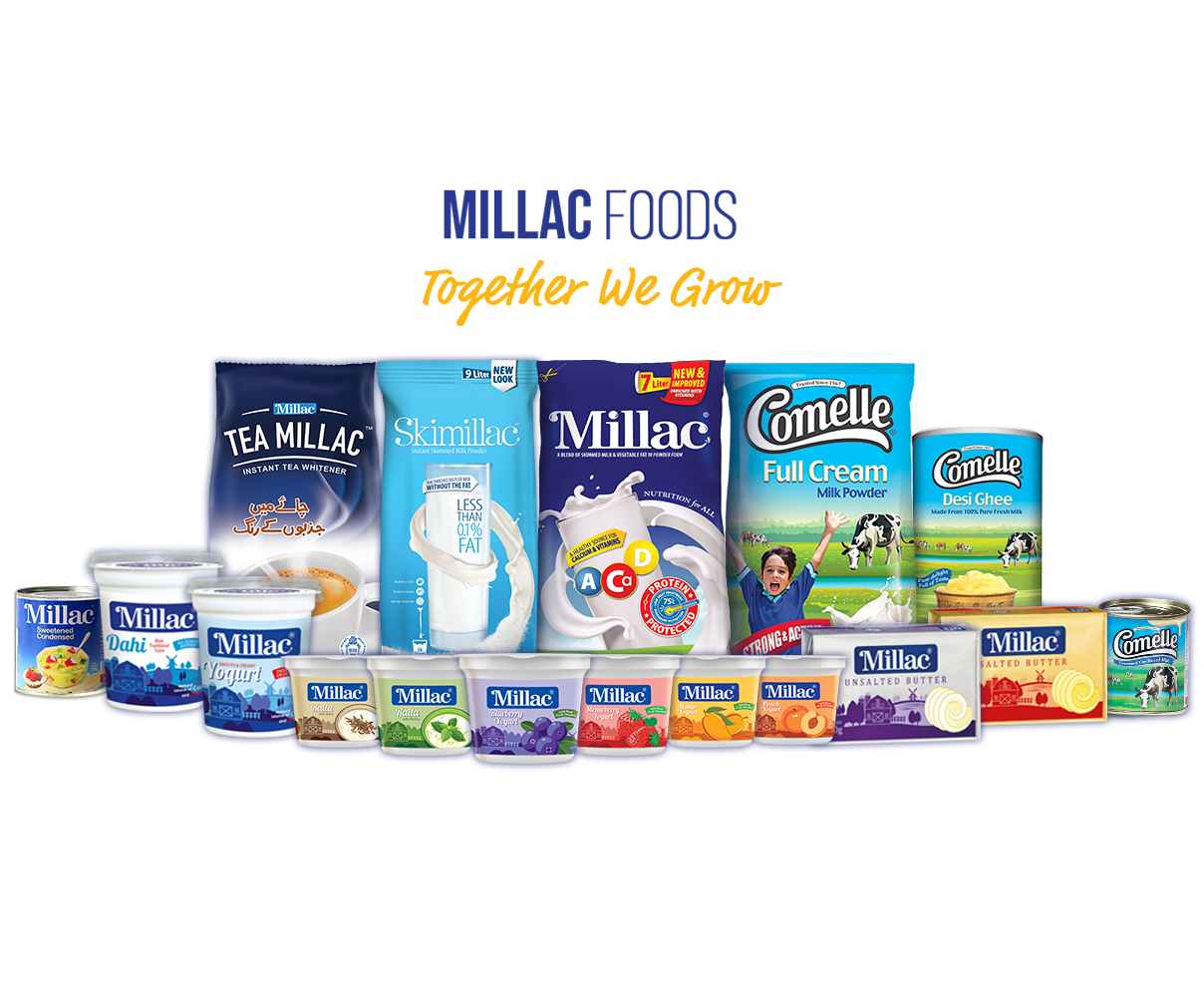 OUR MISSION
Think for the Local, Global Consumer Work with Integrity , Innovation, Insight Create 'trusted superior' dairy products
OUR VISION
Anything Dairy we will produce, connect, deliver consistently with passion, rigor and research Growing Together since 1967
PRODUCTION FACILITY:
Located in suburban agricultural area of Lahore, our Manga production facility is renowned for its evaporation and drying section. The main product lines of Manga plant are Milk powders, Sweetened Condensed Milk, Desi Ghee, Malted Milk Powder, Butter and Butter oil. Millac Foods products are ISO 9001-14000, FSSC 22,000, Halal certified, FDA certified and further licensed by PSQCA (Pakistan Standards of Quality Control) as well. The heart of our plant is the powder plant which is a state of the art, fully automated, PLC Controlled and commissioned by NIRO A/S.
TYPES OF PRODUCTS:
Following are the Milk products and some other products are being produced at MFPL.
Full Cream Powder
Fat Filled Powder
Instant Skim Milk Powder
Skimed Milk Powder
Tea Whitener
Coffee Whitener
Desi Ghee
Amf
Sweetened Condense Milk
Meadows
Malted Milk
Plain Butter
Salted Consumer Butter
Unsalted Consumer Butter
Fresh Pasteurized Cream
Nutri Help

1967

Horlicks, of England established Pakistan Milkfood Manufactures Ltd (PMML).

1970


Pakistan Milkfood Manufactures Ltd. (PMML) was bought out locally

1973


The Company ventured into the imports of high quality fat filled milk powder from Ireland under the brand name Millac & formed a company by the name of Millac Pakistan (Pvt.) Ltd.

1986


Ventured into sweetened condensed milk plant and launched the brand Comelle.

1999


The first state of the art spray dried milk manufacturing plant was established at Manga (Panjab).

2003


Skimillac The lightest of our milk powders was introduced to fulfil the growing concern in health and fitness. With less than 0.1% fat it is rich in Calcium.

2006


Millac is now ISO 9001-2000, ISO 4001-2004 & HACCP certified.

2008


Millac invested in Cold Chain manufacturing facility and launched cold chain brands Dahi, Butter, Raita, Yogurt and Fruit Yogurt.

2011


Achieved PSQCA Certification.

2016


Introduced Comelle our Full Cream Milk Powder which is full of purity and nutrition. Made from cows milk it is rich and creamy – good for the whole family.

2018

Launch of Tea Millac – Tea whitener ideal for mix tea

Relaunch of Millac Milk Powder

2019

| | | | |
| --- | --- | --- | --- |
| | Relaunch of Skimillac – Our Lightest one | | Relaunch of Commelle Condensed Milk |
| | Relaunch of Chilled Dairy Brands | | Launch of Millac Sweetened & Condensed Milk |
| | Relaunch of Butter | | |
| | | | |
| --- | --- | --- | --- |
| | Relaunch of Skimillac – Our Lightest one | | Relaunch of Commelle Condensed Milk |
| | Relaunch of Chilled Dairy Brands | | Launch of Millac Sweetened & Condensed Milk |
| | Relaunch of Butter | | |