Around the World with Millac! Flavors of Spring: Holi
Well folks, this is it; the last post of our first blog series. Having moved westward in ten segments we have arrived at our final destination in neighboring India. Check out the map below for a quick recap of all the countries we've visited and the far-flung cultural diffusions of some of the festivals we explored! Can you tell us which festival was celebrated in the largest number of countries? We hope that this journey has given you a chance to learn about spring festivities in the Northern Hemisphere and enjoy the sweet delights along the way with Millac. In our last stop, we will be looking at the colorful festival of spring celebrated across India as well as in the numerous Indian diaspora communities around the world; Holi! The festival is mainly associated with the themes of spring, colors, and love, giving people a chance to come out and have some fun while throwing colored powder on each other.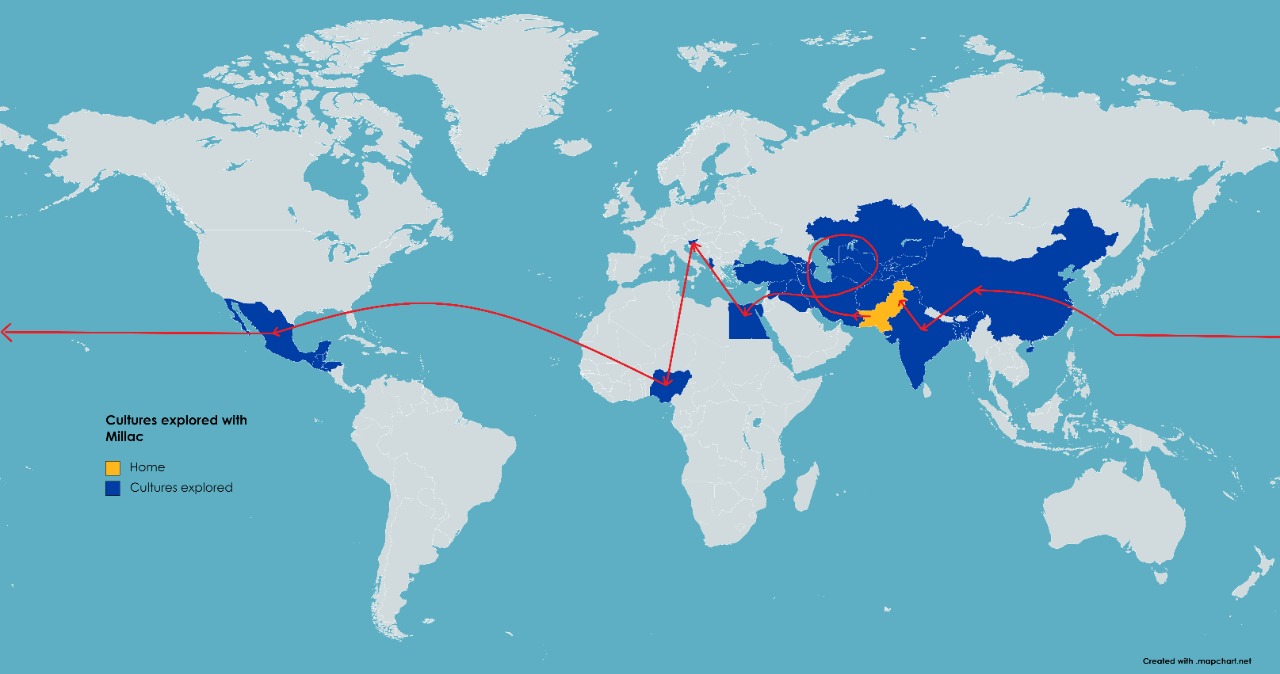 Beginning on the night of the full moon, Indians begin the celebrations by burning a large bonfire which represents the demoness Holika. They gather around and pray that their past evils are also burnt away, so that they can begin the new harvest season with a clean slate. The next day, Rangwali Holi is an all-day festival where people rejoice in the blossoming of flowers and love by meeting with each other and making sure that the white clothes of the morning are completely stained as soon as possible. Amidst the various colors being thrown around, you can hear festive music, laughter, greetings, and smell the various foods cooking for the lunch and dinner feasts. Let's try out one such treat called Malpua!
Gather the following ingredients:
Comelle Full Cream Milk Powder 1 cup
Comelle Desi Ghee (for frying)
All-purpose flour ½ cup
Cardamom powder 1 tsp
Fennel seeds powder ½ tsp
Sugar 1 cup
Chopped almonds and pistachios 2 tbsp
Directions:
Combine the milk powder, flour, ½ tsp cardamom powder and fennel seeds powder in a bowl. Stir well.
Add one cup water slowly and whisk well until all lumps are dissolved.
Set aside for 2-3 hours. If you are on a time crunch 20 minutes is also ok, however the flavor develops better the longer it is set aside.
In a pot, boil one cup sugar with one cup of water. Stir until the sugar melts.
Add ½ tsp cardamom powder and simmer until the syrup thickens slightly.
In a shallow pan, place the malpua batter in batches of about 2-3 tbsp each. Fry on both sides until golden brown.
Drain on a flat pan or use absorbent paper.
Place the fried malpua in the sugar syprup for about 3 minutes.
Remove from the sugar syrup, place on a serving dish and garnish with almonds and pistachios. They are ready to eat or you can also serve them with a side of rabri.
Enjoy!